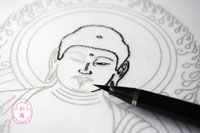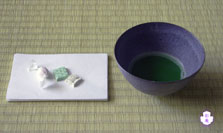 By appointment (private) or the dates as below

釈迦如来・Syaka Nyorai / 14 Sep (14:00)
不動明王・Fudo Myouo / 19 Oct (14:00)
大日如来・Dainichi Nyorai / 10 Nov (14:00)
阿弥陀如来立像・Amida Nyorai Standing / 6 Dec (15:00)

Cha-no-yu - tea ceremony - × Syabutsu - 写仏 - Buddha copying

Sya-butsu (写仏) means copying an image of the Buddha.
Sya-butsu is a Buddhist training. It is said that concentration on sya-butsu
allows us to let go of stray thoughts and to be composed. It is possible to do
sya-butsu outside of the temple nowadays. Generally, there are two kinds of
sya-butsu: copying the original image freehand, and tracing over it.
We will trace over one of the images of Buddha (different Buddha every month),
using a Japanese brush pen and Japanese paper.
After sya-butsu, you will be invited as a guest to the tea ceremony,
held in the cha-sitsu (茶室), tea ceremony room, which has tatamis.
There, you will savour a bowl of light matcha from Kyoto,
and enjoy the moment of cha-no-yu in a mood of quiet reflection.
Let's feel the Japanese moment in Brussels!
* You can sit in the cha-shitsu in either the Japanese way or the Western way.
* It has no religious purpose.

- Venue -
ENKIDU asbl
Square Baron Alfred Bouvier 6, 1060 Brussels
-- Capacity --
Max. 5 persons
-- Language --
English, French and Japanese

-- Fee (all costs included, booking and advance payment) --
35 euro

Private session by appointment: 60 euro
or 90 euro/ 2 pers, 120 euro/3 pers, 150 euro/ 4pers...


-- Booking --
Please send your name, phone number and your session date to: enkidu@saikoproject.com
and transfer your fee to : BE 12 3631 1593 9692 (SAIAN)
Your reservation will be valid when we receive your transfer.
*Reservation will be confirmed in the order in which payment are received.
If you need an invoice, please mention your name and address (+ your TVA number) in your e-mail.
* Cancellation fee

!! Reservations should be made at the latest 3days in advance

Informations & questions : enkidu@saikoproject.com