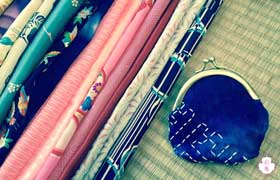 - Wednesday 18th July 14:00 - 17:00 -


Workshop : Handmade frame purse with Sashiko on the Kimono fabric


We will make an original frame purse by hand.
In the beginning, you will select your material from the fabrics
which come from Japan; Kimono and printed cloth.
Then you will challenge Sashiko; Traditional Japanese stitching,
and will try to make a frame purse.

With Sashiko, we will savour a bowl of light matcha or Japanese herbal tea.


* the size of the frame purse: about 10 cm x10 cm
* for everyone, beginners included
* all materials and tools are in our atelier
* if you have your favorite tools and (or) materials, please bring them
(fabric size : 12cm*13 cm, 2 cloths for the outside, 2 cloths for the inside)
- Venue -
ENKIDU asbl, Square Baron Alfred Bouvier 6, 1060 Brussels
- Date and Time -
18th July, 14:00 - 17:00

- Capacity -
Max. 5 persons

- Languages -
English, French and Japanese

-- Fee (all materials included, booking and advance payment) --
50 euro
(When you will use your fabric : 40 euro )

-- Booking --
Please send your name and phone number to: sashiko@saikoproject.com
and transfer 50 euro or 40 euro to : BE 12 3631 1593 9692 (SAIAN)
Your reservation will be valid when we receive your transfer.
* If you need an invoice, please mention your name and address (+ your TVA number) in your e-mail.
* Cancellation fee

!! Reservations should be made at the latest 3days in advance

Informations & questions : sashiko@saikoproject.com