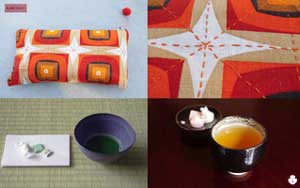 18th June 2016 10:00 in Brussels (BE)

Cha-no-yu + Sashiko - Žh'΅Žq - Japanese stitching by KIMONO{

KIMONO+ and SAIAN will held in a workshop.
Sashiko is a sewing technique that uses traditional geometric pattern stitching.
It looks like drawing with thread on the various fabrics.
Originally, sashiko was used in Japan to repair holes in clothes, reinforcing them
and allowing the scarce fabrics to be used for as long as possible.
KIMONO+ thinks sashiko is a simple and easy way to have a feeling of taking care of things.
It allows us to express ourselves with familiar materials.
After sashiko, you will be invited as a guest to the tea ceremony,
held in the cha-sitsu ('ƒŽΊ), tea ceremony room, which has tatamis.
There, you will savour a bowl of light matcha from Kyoto,
and enjoy the moment of cha-no-yu in a mood of relaxing.

Try making an artwork on fabric from your own pattern and feel the cha-no-yu moment!

* You can sit in the cha-shitsu in either the Japanese way or the Western way.


- Venue -
ENKIDU asbl Square Baron Alfred Bouvier 6, 1060 Brussels
- Date and Time -
18th June (Sat) 2016, 10:00 - 12:30
10:00 - 10:50 Sashiko workshop I
10:50 - 11:10 Tea break with Japanese herbal tea by SAIAN
11:10 - 12:00 Sashiko workshop II
12:00 - 12:30 Cha-no-yu - tea ceremony
- Number of persons -
Min. 3 persons / Max. 6 persons
- Language -
English, French and Japanese

-- Fee --
30 euro + 20 euro (materials) p.p. (booking and advance payment)
* 37 euro + 20 euro p.p. (payment on the day if there are still places)

-- Booking --
Please send your name and phone number to: saianws@saikoproject.com
and transfer 50 euro to : BE 12 3631 1593 9692 (SAIAN)
Your reservation will be valid when we receive your transfer.
* If you need an invoice, please mention your name and address (+ your TVA number) in your e-mail.
* Cancellation fee : 20" (till 7th June), 50"(6 -11th June)100" (from 12th June).

!! Reservations should be made before 16th June

Informations & questions : saianws@saikoproject.com